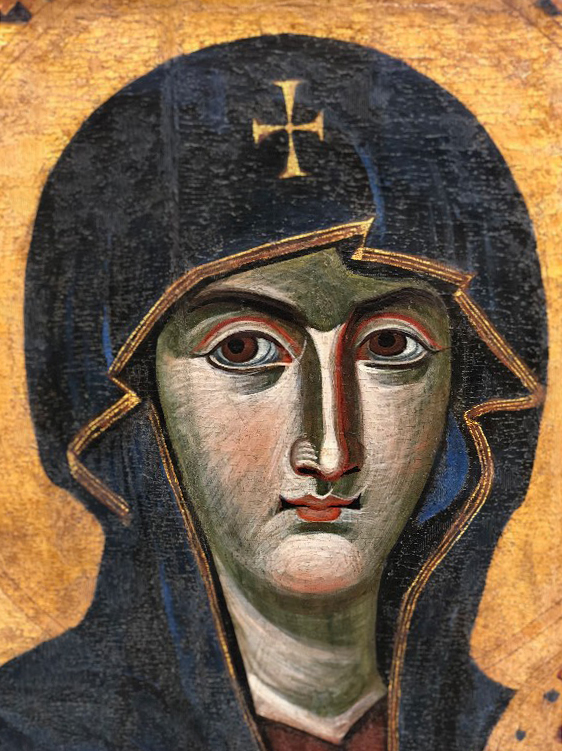 We are delighted to have Master Iconographer Philip Davydov return to New Zealand to teach a five day Icon painting workshop. This workshop fits both advanced students and novices, who from the very beginning wish to gain a professional approach.
The icon SALUS POPULI ROMANI will be a fabulous image to construct in the time honoured tradition of icon painters – gessoed board and egg tempera. For those of you who have not used this medium you're in for an amazing experience. It's beautiful to work with – rich, subtle and forgiving.
The plan is to begin with a short series of drawing sessions so that the workshop participants gain some taste for building up their images through free-hand drawing. After that, we plan to dedicate some time to color sketching to find the most appropriate color solution and composition for this icon to have on our boards. After completing these studies we will paint the icon on gessoed board, moving slowly and consciously through all the necessary steps, from yellow ocher basics to the lettering and other graphic details.
The daily routine of the workshop will include several types of activities, so that the students may work fruitfully without being tired and bored. It goes without saying that, at all our workshops, every step is always demonstrated, explained, and supervised closely by the instructor(s). We will switch between hands-on demonstrations, practical work, lectures on basics and most crucial issues of iconography, and discussions.
A fuller description of the Icon, the workshop and Philip Davydov can be found here on his website
COST: The full cost of the workshop is $880, it covers teaching and all necessary tools and materials provided at the workshop.
REGISTRATION: To reserve a space please pay $50 US dollars (approximately equivalent to 80 New Zealand dollars) on Philip's website The remaining 800 New Zealand dollars are paid at any time during the workshop. The course is limited to 11 participants, please register promptly to ensure a space.
ACCOMMODATION: Because the course is being held in the winter, there should be no shortage of reasonably priced accommodation options in Russell.
NZ CONTACT PERSON: Jules Simons: huriwha@gmail.com
Register here
---